#1. A few books.
As a teenager, I was infatuated with those early Penguin paperbacks. They were well priced and came in a spectrum of colours: orange, green, dark blue, purple, yellow. Often I'd go to the old bookshops on Queen West in Toronto and pick up a George Bernard Shaw or Graham Greene for $1.00.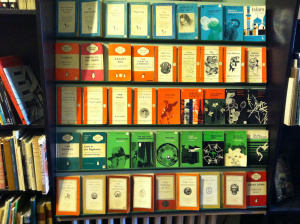 (Vintage Penguin and Pelican Paperbacks, The Monkey's Paw, Toronto.)
#2. A film.
"There was a boy and there was penguin, strangers from the opposite sides of the ocean…" This animated version of the lovely and gentle children's book by Oliver Jeffers is one of the nicest adaptations I've seen (Shaun Tan's The Lost Thing is another.) The former is quite different to the picturebook—arguably less saccharine, the boy slightly more complicated, which I prefer.
http://www.youtube.com/watch?v=XaGTYl0hZQw
#3. A protest.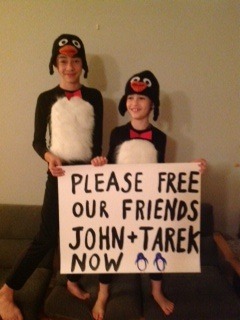 For more info on the campaign to free Tarek Loubani and John Greyson, who have been unjustly detained in a Cairo prison since August 16th, please see: http://tarekandjohn.com/
(The penguin costumes were my eldest son's idea. He has a small role in JG's next film, playing "Tango," a chick raised by two penguin papas, Roy and Silo—AKA the famous couple of Central Park Zoo.)