Spork
Illustrated by Isabelle Arsenault
Spork is neither spoon nor fork … but a bit of both.
Spork sticks out. In his kitchen, spoons are spoons and forks are forks. Mixing is uncommon.
Even though he tries to look more spoonish and then more forkish, Spork never gets chosen at mealtimes.
He seems resigned to life in the drawer … until one day something arrives that doesn't care about cutlery customs. Will this be Spork's chance to finally find his way to the table?
A whimsical celebration of hybrid identities, Spork is a "multi-cutlery" tale for all those who have ever felt like a misfit or wondered about their place in the world.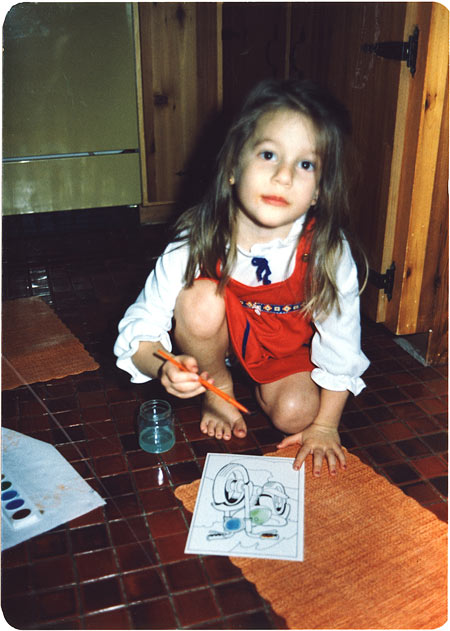 Isabelle Arsenault is a Montreal based illustrator. After her studies in Graphic design (UQAM, 2001), she was drawn naturally toward the fascinating world of illustration. Her work has been published and recognized in newspapers and magazines throughout North America. In 2004, she illustrated her first children's book, Le Coeur de Monsieur Gauguin, which went on to win a 2005 Governor General literary award. Since then, she was a finalist on two other occasions for the GG's (My Letter to the World, Migrant), finalist for the Marilyn Baillie Award in 2011 (Spork) and her book Migrantis among the 10 best illustrated books of 2011 according to The New York Times. In 2012, she received her second Governor General's Award for the illustrations of Virginia Wolf in addition to winning Le Prix jeunesse des libraires du Québec for Fourchon (French version of Spork).
Spork was her first collaboration with author Kyo Maclear. The illustrations for this book were created using mixed media (pencil, color pencils, collage, gouache) and assembled digitally. The idea was to reflect the hybridity of Spork through the usage of different mediums and techniques. The retro look was inspired by vintage kitchen references and a typical color palette from the 50's.
Isabelle lives in Montreal, Quebec, with her husband and their two sons.
A short trailer for Kyo Maclear's new children's book, Spork, published by Kids Can Press. Illustrated by Isabelle Arsenault.
How Spork came into the world
My husband and I "invented" spork on the eve of our first son's birth. We were very pleased with ourselves–weren't we clever! (Spork! A hybrid form of flatware. A delicious portmanteau!) Then one afternoon, as I was walking down by Toronto's Harbourfront I noticed a kitchenware store called Spork and Foon that was having a "Going Out of Business" sale and realized that we weren't as original as we had thought. Was it a bad omen that the store was going out of business? Possibly. Was it a symptom of society's tendency to neglect its mongrels and misfits? Perhaps. After purchasing a discounted garlic press and delivering a few words of condolence to the cashier, I decided it was time to move on and find out more about this "already-invented" thing called a "spork".
Here are a few facts that I unearthed:
A spork by definition is round like a spoon, but has tines on its end that act like a fork. It's shallow enough to consume liquids, but pronged for spearing solids.
It turns out there are patents for sporks dating back to the late 1800s! (I was a mere 120+ years late in my discovery…)
A plastic spork is the utensil of choice for the world's most famous fried chicken outlet, which introduced it in the early 1970s, to accompany a popular coleslaw dish.
Sporks are popular in school cafeterias and U.S. prisons. Why? Because sporks are harmless creatures. Try using a spork as a weapon. Not so easy.
Sporks, especially the lighter titanium types, are very popular among backpackers.
If personal field research is any indication, sporks are the ultimate eating utensil for very young children (aka the ham-fisted "messy things" in the story).
25 Picture Books that Promote Empathy and Respect, Book Riot
Prix Jeunesse des Libraires du Québec (2012: Winner)
School Library Journal Trailee Award (2011: Finalist)
Marilyn Baillie Picture Book Award (2011: Finalist)
Best Children's Books of the Year, The Canadian Children's Book Centre (2011)
Top Ten Children's Books, Ottawa Citizen (2011)
Best Children's Books of the Year, Bank Street Children's Book Committee (2011)
Best Children's Books, Kirkus Reviews (2010)
Magnificent Children's Books, Fuse #8 Production (School Library Journal) (2010)
Favorite Book,

DRAWN

 (2010)
Horace Mann Upstanders Book Award (2010: Finalist)
Outstanding Books for Young People with Disabilities,

IBBY

(2010: Winner)
"While some picture-book tales have difficulty promoting the "different can be good" message without slipping into deep didactism, Maclear's text feels nearly effortless. The inanimate-object identification also pairs brilliantly with Arsenault's melding of mixed media and digital art…a sublime little parable."
—Kirkus Reviews (starred review)
"It's a story that could wilt under the weight of moral high-mindedness, but the graceful voice of Maclear, making her children's book debut, keeps it light and entertaining."
—Publishers Weekly
"Arsenault's expressive drawings of an un-happy spork are instantly winning."
—The New York Times
"[H]er message of acceptance will resonate, particularly with parents."
—Booklist
"[T]he lighthearted storytelling and whimsical mixed-media illustrations will draw readers in, and adults will find the book to be a useful conversation starter for the topics of race, difference, and acceptance."
—School Library Journal
"Spork is one of the cutest, most clever books on mixed-race issues to land on my desk in a long time. Both story and illustrations create a perfect package of ticklish, delightful fun … with important life lessons for lasting zing."
—Book Dragon (Smithsonian)
"Identity and cultural divisions are weighty topics, but Maclear handles them with a gentle wit. The jokes also abound in Arsenault's retro-inspired pictures, where spoons, forks, and other kitchen denizens take on the same expressions and self-important scurrying as the humans who use them. Spork is a book both kids and parents will devour."
—AELAQ
"Playfully billed as a "multi-cutlery" tale, this smart, adorable book shows that everyone has something special to give and it's our differences that make us shine. I loved that it took a baby, untainted by prejudices, to help this lonely fellow. And the fact that sporks really are handy for babies only adds to the charm."
—Where The Best Books Are