The Wish Tree
Illustrated by Chris Turnham
A tribute to friendship and kindness and a celebration of what matters in life, The Wish Tree encompasses the best things about the holiday season—without being tied to any particular tradition.
Charles wants to find a wish tree. His brother and sister don't believe there is such a thing, but his trusty companion Boggan is ready to join Charles on a journey to find out. And along the way, they discover that wishes can come true in the most unexpected ways.
The poetic text and heartwarming illustrations evoke the true essence of the holiday season and will inspire wishers everywhere. This gem of a book deserves centre stage year round. (From the publisher)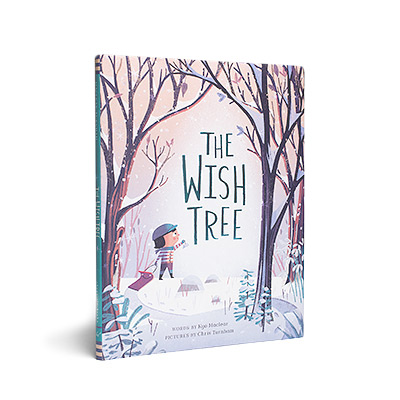 Canada/US: Chronicle Books, 2016.
French World Rights: Scholastic Canada, 2016.
Russia: Mann, Ivanov and Ferber, 2016.
China: CITIC Press, 2017.
France: Dargaud/Little Urban, 2017.
Turkey: SEV Publishing, Education and Trading Inc, 2017.
Book Club Rights: Scholastic US, 2017.
Vietnam: TN Books, 2021
Chris Turnham is an illustrator based in Los Angeles. He's had a long production art career working as a visual development artist in the animation industry for clients including Sony Pictures Animation, LAIKA Entertainment, and Dreamworks Animation.
In addition to illustrating children's books he spends much of his time in the studio pursuing his passion for printmaking. To see more of his work visit www.christurnham.com
The Wish Tree Activity Kit
Around the holidays many bookstores and libraries hold book drives in the spirit of giving and community. Many children are making wishes around this time of year, whether they're writing a letter to Santa, hoping for the perfect Hanukah gift, or simply gazing up at a shooting star. This kit will help you make some wishes come true.
Download The Wish Tree Activity Kit Recipe Card (PDF, 8.1mb)
Download Recipe Card
25 Best Kids' Books for Fall 2016, Today's Parent
24 Fantastic Picture Books to Read This Fall, Read Brightly
10 Best Winter Books of 2016, Let's Talk Picture Books
Best New Children's Books for Christmas, Cool Mom Picks
2017 Kansas NEA Reading Circle Catalog
2017 Children's Choices Reading List, International Literacy Association
10 Perfect Picture Books for Christmas Eve, Barnes & Noble
"This ingeniously nondenominational tale brings a lovely serene pace to classic holiday themes like giving to others and gathering with dear ones. Perhaps most magical is Turnham's art, which somehow makes soft mauves, pinks and grays take on a holiday sparkle."
—The New York Times
"Hums with understated everyday magic."
—Publishers Weekly
"Sweet in mood."
—Kirkus
"A truly magical book."
—Quillable
"Exudes quiet magic and wonder…full of warmth and cheer that only the best of friends and the spirit of giving can provide."
—School Library Journal
"A warm and engaging magical tale of friendship and the intrinsic beauty of nature offers great appeal and will undoubtedly become a yearly read-aloud in primary classrooms everywhere."
—School Library Connection
"The Wish Tree is a magically written story by Kyo Maclear and most empathetically illustrated by Chris Turnham…A more perfect winter tale, we couldn't imagine and one we can't wait to delve into as winter approaches."
—Picture Books Blogger
"Chris Turnham's jaunty illustrations perfectly complement Kyo Maclear's charming and poetic story for young readers who dare to find hope in the ordinary and make a wish come true."
—Politics and Prose
"The Wish Tree is a winsome picture book about kindheartedness and wonder. It could make for a great seasonal read aloud, a cozy quiet read, or for an on-theme read about friendship and thoughtfulness…and it may even inspire some to create their own variations of a 'wish tree'! Readers who have already read and loved Kyo Maclear's previous titles will undoubtedly enjoy this…enchantingly told and adorably illustrated book."
—Fab Book Reviews
"Kyo Maclear deftly pulls in the reader with spare, precise language, accented by illustrations from animator Chris Turnham rendered in a purple, white and brown palette that evokes both winter and warmth."
—My Statesman
"The winter theme will only add to its potential as the season's greatest storytime contender, the images capturing that long, quintessentially Canadian scene so well… The Wish Tree is sure to be another hit by the author of the award-winning Virginia Wolf. This heartwarming tale is a must-have for all children's book collections."
—CM Magazine
"This celebration of searching, giving and friendship shows a true fulfillment of wishes and makes a beautiful winter and holiday book."
—The News Gazette
"The Wish Tree by Kyo Maclear and illustrated by Chris Turnham has quickly become a family favorite."
—BabieKins Magazine
"Kyo Maclear and Chris Turnham have created a delicately beautiful book that is absolutely captivating."
—Jump Into a Book
"The beautiful, wintry illustrations evoke all those feelings of snowy magic, and the sweet story of generosity and kindness is a wonderful message for our kids this holiday season."
—Cool Mom Picks
"This one is perfect for the holiday season, and will inspire the search for magic in kids and adults, alike. We've featured Kyo Maclear before, and are delighted with her new release. Crisp, modern illustration by Chris Turnham makes the story sparkle."
—Red Cap Cards, Arlo's Book Club
"With its rhythmic, poetic language, and gentle, hope-filled storyline, The Wish Tree is perfect for seasonal sharing."
—National Reading Campaign
"THE WISH TREE is the perfect winter read. It's a heartwarming story with a woodland adventure, helping others and believing in something that's not seen. It's simple, yet beautiful message, and lovely illustrations, make this the perfect book to read around a cozy fire, or snuggled up under the blankets on a long winter's night."
—Mundie Kids
"Children and their parents will love Maclear's sweet story and the lovely illustrations from first-time children's illustrator Turnham. Turnham's bluish skies and creamy-white snow transport readers to a cold forest where one little boy looks for a magical tree. Throughout the story, Maclear weaves in repetition, which will get help children learn to read and increase their involvement with the story."
—Kid Lit Reviews
"Kyo Maclear's story is very simple: a quest for a wish tree. But she ties up that quest with doing for others, promoting generosity of spirit and effort as the means for personal fulfillment….Kyo Maclear does not do contrived or unsatisfying. As with her earlier books, including my very favourite Virginia Wolf (Kids Can Press, 2012), Kyo Maclear fulfills readers' own wishes by eloquently wrapping up big concepts in sweet stories that always charm us with their worthwhile life lessons."
—Can Lit for Little Canadians
"The lovely text of this luminous book begs to be read aloud and over and over again; there's a small bit of magic on every page."
—Marika McCoola, bookseller, Porter Square Books, Cambridge, MA
"A delightful winter story about friendship, service, and making other people's wishes come true."
—Erin Barker, Bookseller, Hooray for Books!, Alexandria, VA
"For fans of Ruth Krauss's classic The Carrot Seed comes a soft, fresh and thoughtful book of perseverance and kindness just in time for the winter season. This book is destined to be a classic holiday read for all to enjoy around the warmth of those they love. A genuinely delightful and endearing read that has instantly captured my heart."
—Jesica Sweedler DeHart, Assistant Manager, BookPeople of Moscow, Moscow, ID