To celebrate today's release of Mr. Flux I would like to introduce you to my youngest son—also known as the child who inspired the story. Mika is a sentry of sameness. He is a child who likes to sit in his exact same chair in his exact same place and eat his exact same food (mostly fruit and vegetables) in his exact same pants (soft jeans that vary only in color). He prefers to have things served in pairs and if not pairs, then in eights. Do not offer him three of anything. He will refuse. On weekends and holidays, he likes to see his friend Theo and play Lego or invent stories about marshmallows. On warm days, he likes to ride his same old bike, which is now too small for him but never-mind, he and the bicycle "are not getting divorced ever."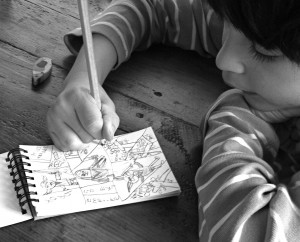 If I have made him sound routine and boring I apologize. Like his mother, he can be operatic in his fancies and moods. He has a vibrant imagination and can often be found sitting in his exact same chair drawing comics with his exact same pen or pencil. He can fill books and books this way and it is not unusual for me to open up an important (to me) writing notebook only to find it colonized by important (to him) robots and marshmallow men. Here is his drawing of "Random City", an apparently inhospitable place.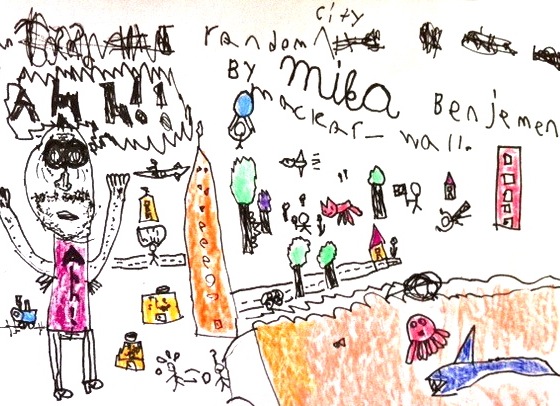 Sometimes he will bolt out of his chair and rearrange tchotchkes on our shelves or put Mimi's cat bowl, which sometimes drifts across the floor, back where it belongs. He seems to have an innate sense of Feng Shui and his sense of order is easily insulted. His brother's appearance, for example, is often unruly and thus an affront to his sensibilities. In many ways, my youngest son resembles Martin who might have similar responses to the following prompts…
Best change: "Winter to Spring." Scariest change: "Day to Night." Most changing experience: "When I gave up Huggie (my blanket) and when I stopped eating gluten." Most wished for change: "I would like to be a bird that doesn't have any fears."
Despite his wariness, he constantly surprises me. He may not spin toy rabbits on a turntable or throw hats out the window (as Martin and Mr. Flux do in the story) but his mind is constantly a-flux with new ideas and creations. He may appear outwardly conservative but inwardly he is an anarchic wizard—a living reminder to not judge a book etc. Twyla Tharp once noted: "Before you can think out of the box, you have to start with a box" and I know Mika and Martin would both agree.
So there you are. I hope you'll pick up a copy of Mr. Flux and share it with any Martins (or Mikas) you may know. Matte Stephens and I are both very proud of our collaboration.