There is nothing more attractive to me than a person with fence-jumping knowledge. A person who knows the creative and liberating effects of roaming and not being single-minded. Roy Kiyooka was such a roamer—a poet, photographer, painter, musician, performer, sculptor, filmmaker, teacher. Roy treated these activities as part of a connected project, alternate perspectives on the same fundamental human dialogue. He proposed that being an artist was not a vocation but a life-long search and calling.
"…Be indubitably an eye: by which
I mean the least gesture of the least thing underfoot or up in the air ought to captivate your whole sensorium."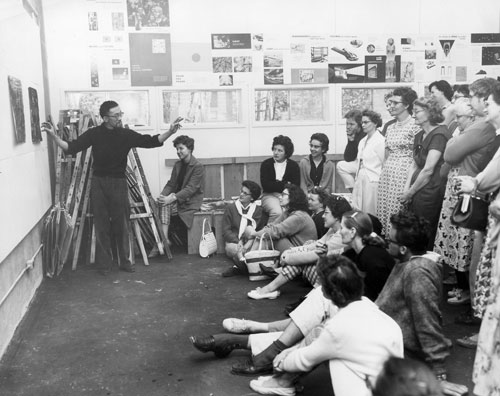 He inspired a generation of younger artists and academics on the West Coast, and found his way into my pantheon via an ill-fated love affair and a beautiful book entitled Pear Tree Pomes (at a time in my life when a boy could win me over by knowing the right poets.)
The first time I read publicly (in Vancouver), Roy squatted at the edge of the stage, a gnomic presence quelling my performance anxiety with his reassuring quietness. Later, and more significantly, he saved me from the anxiety of specialization, simply by modeling a life that moved laterally across fields.
It has been twenty years since Roy died suddenly and unexpectedly and there are a few lovely tributes including a commemorative exhibition and this wonderful article to mark the occasion. I know I am hardly alone in thinking of him frequently. As one of Canada's first "multidisciplinary" artists and a self-professed member of the "artist tribe" he taught us what it meant to flout convention, stasis, and market expectations.
"Don't allow yourself to be mislead by the false/urban
Sophistications, particularly 'those' ideas that come under
The rubrics of our conflated Media. Don't let your own
Psyche dissemble because of its false aggrandizements. Find
Out how small your daily needs really are and then ask
Yourself—what high-tech progress and ambition really means."
Please take a few minutes to watch this trailer (note: groovy cameos). You won't be sorry.
(Excerpts: from Roy Kiyooka's Hieronymus Bosch's Heretical April Fool Diverti-mementos & Other Protestations as quoted in "Art Calling Fool Scold: The Discursive Pedagogy of Roy Kiyooka" by Henry Tsang. Images: "Roy Kiyooka teaching at Emma Lake Art Camp," 1961. Trailer: "REED: the life and works of Roy Kiyooka" by Fumiko Kiyooka.)