Hello, Rain!
Illustrated by Chris Turnham
A glorious celebration of all the reasons to love the rain!
The air is full of waiting.
The sky is full of breeze.
The trees gust and billow.
All before it rains.
From splashable puddles to
flowering gardens to the sound
of raindrops tick-tick-ticking
against the windowpane, the
text and pictures in
this exuberant book showcase
all the reasons to love the rain.
It is a joyous celebration of
nature that is perfect for
reading no matter the weather.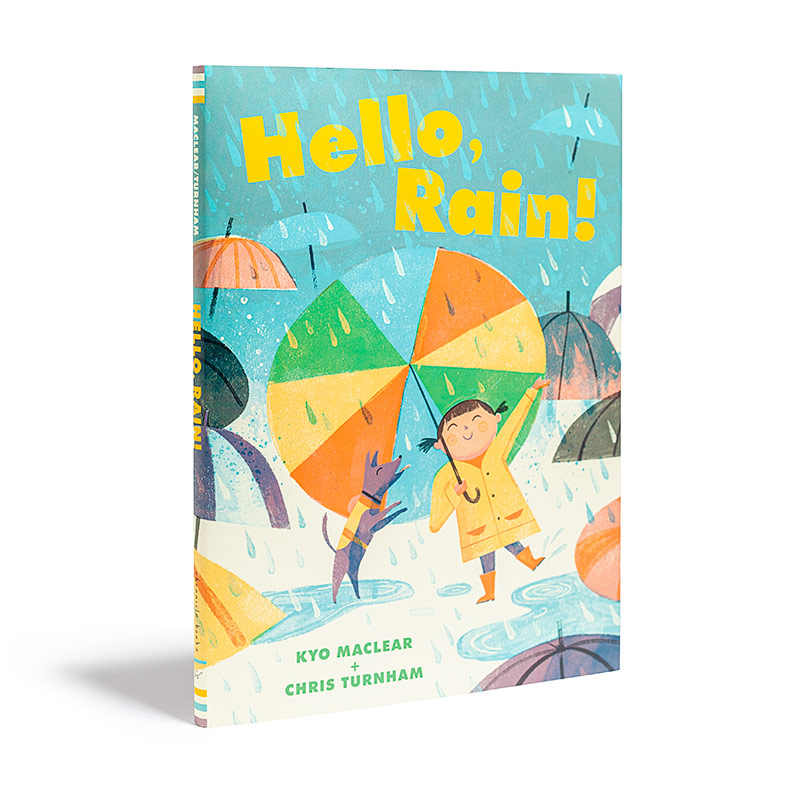 North America: Chronicle Books, 2021
Korea: Kookmin Books Co, LTD, 2021
Vietnam: TN Books, 2021
Chris Turnham is an illustrator based in Los Angeles. He's had a long production art career working as a visual development artist in the animation industry for clients including Sony Pictures Animation, LAIKA Entertainment, and Dreamworks Animation.
In addition to illustrating children's books he spends much of his time in the studio pursuing his passion for printmaking. To see more of his work visit www.christurnham.com
• Indigo Top 50 Kids Books of 2021 So Far
•A Mighty Girl's 2021 Books of the Year
"The story's language and illustrations are wonderfully matched, as both capture the dual wonders on display…a joy to read aloud and a more realistic, but no less enchanting, companion to Beatrice Alemagna's On a Magical Do-Nothing Day."
— Booklist (starred review)
"In text that begs to be shared aloud, evocative figurative language ("the air is full of waiting" and "umbrellas bloom"), a heaping dose of onomatopoeia ("Crack! Flash!"), and delicious vocabulary (deluge, drizzle, and bursting) vividly animate the thrill of heading outside when "the sky is an adventure"…A joyous tribute to the wonders of a rainy day for the pluviophile in all of us."
—Kirkus (starred review)
"Maclear's poetic text cascades down each page in rivulets and short bursts, requiring the eye to jump around and follow the path of each phrase like a rain droplet… Maclear and Turnham use Hello, Rain! to magnify the magic and beauty revealed by rain and to remind readers to stop and take in the magic and brilliance all around."
—Shelf Awareness (starred review)
"What delights is the juxtaposition and freewheeling association ("Cool rain. Fresh rain"), the sense of plenty, and the spirit of sharing…Hello, Rain! is a warm, affable story that invites rereadings and engages the senses."
—Quill and Quire (starred review)
"This picture book is a lyrical and playful ode to rain showers with rhythmic prose that drip drops from the tongue like raindrops…a blast to read for every child and adult who sees a puddle and simply must splash in it."
— Book Riot
"Maclear celebrates the unbounded joy of discovery in ordinary things, chronicling events with a poet's powers of observation… Turnham give the pages a memorable look with a palette of unexpected hues… Together, the creators conjure a child who fully inhabits each present moment until the sun arrives again."
— Publishers Weekly
"Our two heroes splash, dance and explore, the text catching all their excitement in lines that border poetry… A book that fully celebrates a young child's joy in the wonders of nature and the natural world."
—Love Reading
"Maclear's simple, joyous language guides readers through the rich experience of a rainy day."
—CM Reviews