Virginia Wolf
Illustrated by Isabelle Arsenault
From the makers of Spork, a story of two sisters, one blue, the other radiant, both brimming with imagination.
Vanessa's sister, Virginia, is in a "wolfish" mood — growling, howling and acting very strange. It's a funk so fierce, the whole household feels topsy-turvy. Vanessa tries everything she can think of to cheer her up, but nothing seems to work. Then Virginia tells Vanessa about an imaginary, perfect place called Bloomsberry. Armed with an idea, Vanessa begins to paint Bloomsberry on the bedroom walls, transforming them into a beautiful garden complete with a ladder and swing "so that what was down could climb up." Before long, Virginia, too, has picked up a brush and undergoes a surprising transformation of her own. Loosely based on the relationship between author Virginia Woolf and her sister, painter Vanessa Bell, Virginia Wolf is an uplifting story for readers of all ages.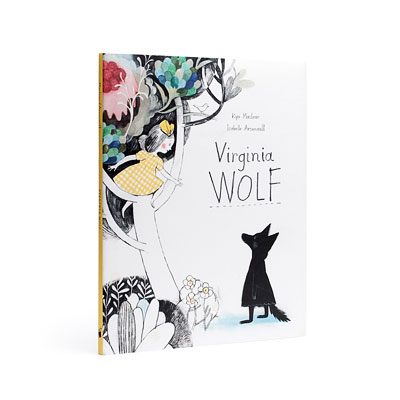 Slovenia: Zala založništvo in izobraževanje, 2017
Complex Chinese Language: Worldfield Publishing Ltd., 2017.
Iran: Fatemi Publishing Co., 2017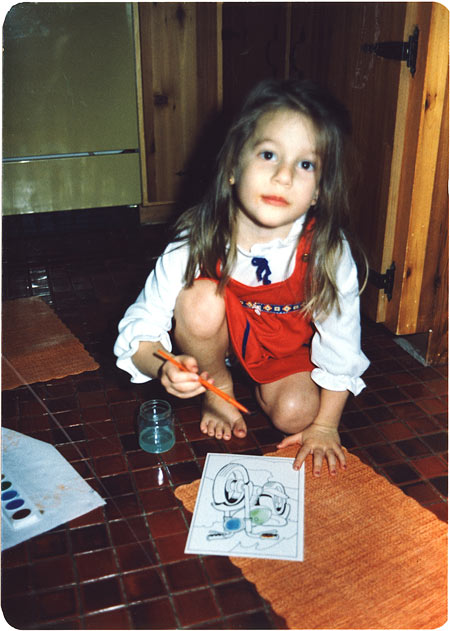 Isabelle Arsenault is a Montreal based illustrator. After her studies in Graphic design (UQAM, 2001), she was drawn naturally toward the fascinating world of illustration. Her work has been published and recognized in newspapers and magazines throughout North America. In 2004, she illustrated her first children's book, Le Coeur de Monsieur Gauguin, which went on to win a 2005 Governor General literary award. Since then, she was a finalist on two other occasions for the GG's (My Letter to the World, Migrant), finalist for the Marilyn Baillie Award in 2011 (Spork) and her book Migrantis among the 10 best illustrated books of 2011 according to The New York Times. In 2012, she received her second Governor General's Award for the illustrations of Virginia Wolf in addition to winning Le Prix jeunesse des libraires du Québec for Fourchon (French version of Spork).
The illustrations for Virginia Wolf were created using mainly pencil and ink. The colors were introduced by the end of the book using gouache and collage and played an emotional symbol within the narration. Isabelle found great inspiration in this touching story that deals with such themes dear to her as sisterhood, depression and art as a way to see the world differently.
Isabelle lives in Montreal, Quebec, with her husband and their two sons.
A trailer for Kyo Maclear and Isabelle Arsenault's latest picture book,Virginia Wolf. Published by Kids Can Press and La Pasteque, 2012. (Music by Basia Bulat.)
Who's Afraid of Virginia Woolf?
Not so long ago, I wrote a children's story indirectly about Virginia Woolf and her older sister, the painter Vanessa Bell. The premise was simple—a young girl is feeling "wolfish," and her sister tries to cheer her up—but given the infamy of my subjects, I knew the story would have to wear its origins and themes lightly. I decided it would be told in a suspended and hypothetical moment of childhood. There would be no explicit reference to mental illness or depression. Beyond these general notions, I proceeded intuitively – and, possibly, foolishly.
***
I have always had an unhealthy ability to dispel doubts while immersed in a project. The queasiness tends to arise later, once I step back. In this instance, I remember quite distinctly when my "Uh-oh" moment came. I had just finished reading Sylvia Plath's Collected Children's Stories. Widely known as that unhappy poet who killed herself, Plath wrote several whimsical and upbeat books for children, including The Bed Book, drafted when she was pregnant with her daughter. Reading these stories, all of which would fit into the category of "normal" cheerful literature, so delighted me that I recommended the collection to a friend.
I might as well have suggested she host a chicken-pox party or take her children to see Shoah. Her reaction could not have been more wary; there was a palpable blockage. That's when it hit home that mental illness is still largely taboo in grown-up society. I knew then that some adults would be unable to separate my picture book from Woolf's own suicide.
What doesn't concern me is the response of children. For one thing, most will have no idea Virginia Wolf is loosely based on two real-life people; instead, they will see the story of two sisters, one struggling and the other flailing to help.
In fact, the world and emotions described in the book will be completely familiar. Adults love to project happiness on children, ignoring the fact that childhood is a pretty intense time for most. Life is epic in the playground. There is drama and bewilderment, injustice and anxiety. Souls are crushed and hearts broken on a regular basis. Is it any wonder young children cry passionately several times a day?
By the time they are eight, many children are full-fledged existentialists, buzzing with scary questions. (Michele Lemieux's Stormy Night captures this brooding Sartrean mindset perfectly.)
I have always been disappointed by kids' books that paint children out to be dimwitted innocents in need of false cheer. In that regard I have not moved far from the writers who spoke to me as a child: Charles Schultz, Maurice Sendak, William Steig, Norton Juster – all of whom wrote stories about characters suffering from epic bad moods.
Every one of these writers had the courage to be emotive and real and faithful to what goes on with children. Schultz and Steig featured characters (Charlie Brown and Spinky) who saw the bleak underside of life more vividly than the pleasant side. Sendak and Juster showed how fear or boredom could take over a child's life, making it difficult to feel anything else.
But getting back to my own "real" story. When I sat down to write Virginia Wolf, I knew part of the challenge would be making Virginia's "wolfishness" recognizable. Her popular image as a tormented genius, combined with her tragic end, has elevated her vulnerabilities and obscured her ordinariness. But is there not a little wolf in everyone? Have we not all, at some point, been immobilized by sadness?
I realize some adults will question this attempt to normalize Woolf's illness, but I'm hoping it will be a miniscule minority. As for those children who find out that Virginia Woolf killed herself: it's not my intention to "bring them down," but I think they will be okay. Quite honestly, many adults aren't as limber and resilient as the children I know. I have discovered, as a general rule, that kids tend to find their courage when they are invited to speak openly about things that scare or confuse them.
Ultimately, I'm hoping readers of all ages will be so seduced by Montreal artist Isabelle Arsenault's illustrations for Virginia Wolf that they will work through any apprehensions. (I know I swoon every time I open the book.) To me, Isabelle's art is the very expression of the idea that creativity, while it might not save us from ourselves, can be a way of going forward. If we're lucky, art can help us through our wolfishness.
Originally published in Quill & Quire (March 2012)
Editor's Choice, Books For Keep UK
Picture Books for Young Feminists, Readings
Top 100 Mighty Girl Picture Books
100 Best Canadian kids' books of all time, Today's Parent
100 Canadian Books to Read in a Lifetime, Amazon.ca and 49th Shelf
12 Contemporary Canadian Picture Books Every Home Should Have, CBC Books
HDSB Reads "One Book" Club, 2015
The Most Celebrated Children's Literature of 2013, Huffington Post

TD

Canadian Children's Literature Award (2013: finalist)
Marilyn Baillie Picture Book Award (2013: finalist)

IBBY

Canada Elizabeth Mrazik-Cleaver Picture Book Award (2013: winner)
Ruth and Sylvia Schwartz Children's Book Awards (2013: shortlist)
White Raven Award, International Youth Library (2013: winner)
Amelia Frances Howard-Gibbon Illustrator's Award, Canadian Library Association (2013: shortlist)
Cooperative Children's Book Center (

CCBC

) Best of the Year Choice, 2013

USBBY

Outstanding International Books List, 2013
Ontario Library Association, Best Bet (2012: commended)
Governor General's Literary Award, Children's Literature Illustration (2012: winner)
Best Books for Kids

&

Teens, Starred Selection, Canadian Children's Book Centre, 2012
The Best Illustrated Children's Books and Picture Books, Brain Pickings, 2012
15 Books that Mattered 2012, Quill and Quire
Readers' Pick of the Year, Quill and Quire
Best of 2012, IndigoKids
Best of 2012, Drawn
Best of 2012, Times Colonist
Indigo Books Heather's Pick, 2014
"In the literary bounty of books about bad moods and bad days, this one goes deeper than most, poignantly showing literal and metaphorical glimpses of real depression…Knowledge of Virginia Woolf and her painter-sister Vanessa Bell is unnecessary; this works beautifully as a bad-day/bad-mood or animal-transformation tale, while readers who know actual depression will find it handled with tenderly forceful aplomb."
—Kirkus Reviews (starred review)
"It's not often that a writer-illustrator team conceives a second work so much more ambitious and complex than the first (in this case, 2010's Spork), and rarer still to execute it so well…Vanessa's act of love is recounted with grace and sensitivity in this remarkable collaboration."
—Publishers Weekly
"It is the delicacy of the mixed-media illustrations (ink, pencil, watercolor, gouache) that tames the feral Virginia and gives real strength to the story. Parents will enjoy sharing this book with their sometimes "wolfish" children."
—School Library Journal (starred review)
"Virginia Wolf, an ambitious story about girlish blues, sisterly differences and the healing power of art, will do wonders for Woolf-besotted former English majors. But the story, about Virginia and her sister, Vanessa, who paints a fantastical world called Bloomsberry, will work equally well for children who hardly know the difference between the United States and the United Kingdom."
—The New York Times
"Where are the Wild Things in contemporary picture books? This wise and daringly imagined book is one place to look for them."
—Leonard S. Marcus, The Horn Book Magazine
"I happen to be a huge sucker for this theme in literature and art and music, the arts — very power to heal — to repair or at least soften, that is, those stinging emotional wounds we all carry. When done as well and as poignantly as it's done in this book, I get a big lump in my throat and start seeking the closest tissue box."
—Julie Danielson, Kirkus Reviews
"With beautiful splashes of colour and witty, uplifting text, the Canadian duo Kyo Maclear and Isabelle Arsenault imagine a secret childhood world of the sisters, while delicately exploring the theme of depression, in this exceptional picture book for ages four and upwards."
—The Guardian (Children's Book of the Week)
"Right in step with Maclear's elegant, affecting text, Arsenault's fetching mixed-media illustrations have a sophisticated yet homespun feel, featuring smudgy black silhouettes, expressive hand-lettered text, and plenty of sly visual detail…the book is ultimately a feel-good celebration of the power of the imagination and art to create perfect places in the world when none can be found."
—Booklist
"The plum for adults is that the sisters are named Virginia and Vanessa, their brother is Thoby, and the sunny kingdom is 'Bloomsberry,' thus adding a level of literary and biographical resonance to the tale of sisterly love."
—The Horn Book Magazine
"…a sensitive and nuanced portrayal of depression for an audience too young to understand the disease. It should attract a lot of attention, and dare we say it – an award nom or two?"
—Quill and Quire, Spring Preview Highlights 2012
"[F]or any literate adult reading this story aloud to a child, there will be references that add profound layers to what could otherwise be viewed simply as a juvenile picture book. Either way, it is a thoughtful, gentle treatment of depression and mood swings – something to which most of us can relate, whether we've heard of Woolf and the Bloomsbury Group or not… Montreal artist Isabelle Arsenault's mixed-media illustrations and hand-lettered text (complete with blocks of oversized capital letters to depict Virginia's raised voice) are a perfect match for Toronto writer Kyo Maclear's inspired story. All in all, this is a beautiful, sophisticated and highly recommended volume."
—The Montreal Gazette
"Maclear and Arsenault treat sisterly love, creative imagination and the anxious agonies of depression with an expressive mix of lightness, whimsy and compassion. Arsenault's hand-lettering and free-form fantasy intensify our sense of the topic's personal nature. Maclear writes with poetic brevity, both serious and playful."
—Toronto Star
"Maclear's and Arsenault's exceptional book is a must-have for all libraries with children's book collections and is a display-worthy piece."
—CM Magazine
"Cette histoire d'une affection indéfectible entre deux soeurs est belle et touchante."
—La Presse
"So artfully has Maclear rendered the story, which subtly succeeds on many levels — emotionally, metaphorically and pictorially — that even the youngest readers will intuitively understand and identify with both Vanessa's loving efforts and Virginia's raging depression."
—The Vancouver Sun
"[T]his book is permeated with the Bloomsbury ethic of friendship and beauty."
—Virginia Woolf Miscellany
"The message is subtle, but it will stay with children. Every child has times of sadness. This book honors those feelings, while offering positive ideas to work through them."
—San Francisco Book Review
"Virginia Wolf, by Canada's Kyo Maclear and Isabelle Arsenault, is like a beautiful dream, wrapped up and bound by a spine."
—Design Mom
"[E]very now and then, I find a book that strikes me as a worthy successor to the Sendak legacy. This time, it was Kyo Maclear and Isabelle Arsenault's Virginia Wolf…Virginia Wolf offers girls coping with outsize emotions–including those who may already be diagnosed with mental illness–a way to see that they're not alone in how they feel. It also shows them that they're not alone in coping with their emotions. It plants the idea that there are loved ones standing by who care deeply about how they feel and want to help them heal."
—Read Like a Girl
"Some sort of symbiotic magic occurs when Arsenault and Maclear work together, and the product is timeless picture books that appeal to children and adults alike."
—Perogies & Gyoza
"How brilliant is hapa Canadian writer Kyo Maclear's testimony of sisterly love between two accomplished women, Virginia Woolf and her older artist sister Vanessa Bell; she even manages to mention their older brother Thoby (Stephen)…Isabelle Arsenault's art again provides a perfect pairing with Maclear's story. Her hand-lettered text alone speaks volumes – from large angry words to hopeful whispers to happy communication. Her watercolors are simply marvelous, transforming a little girl lost in her own darkened mood to the sunshiny sister ready to go out and play."
—Book Dragon, Smithsonian
"The lyrical flow of the text and the breathtaking mixed media illustrations are captivating."
—The Crimson Review
"This isn't one of those books that's going to instantly fly off the shelf – it's a little quirky, a little different. But once a few people discover it, Virginia Wolf will be one of those books that's passed from person to person and remembered and beloved by a few children. We need those special books in our libraries, as well as the super-popular and super-commercial titles. Squeeze it into your budget and watch children's faces bloom with delight as they are transported to Bloomsberry."
—Jean Little Library
"Children's books with grumpy characters getting over their bad moods are familiar territory, but Virginia Wolf (the title is a clue for grown-ups) dips into the realm of actual depression and mental illness in a deft and delicate way."
—Drawn
"There is so much more to Woolf than the stones in her pockets, and I love that this book celebrates that. She survived her bouts in the doldrums over and over again, and that she finally didn't in no way undermines the achievement of her life, all 59 years of it."
—Pickle Me This
"This is one of the deepest, most touching picture books that I have ever come across."
—Instantly Interruptible
"A great picture book often leads me to a more intense emotional response than a great novel…[Y]ou don't come across this kind of book every day, but when you do, you recognize it right away. Virginia Wolf…is one of those rare books."
—Shelf Elf
"Just perfect. 
One of those things that makes a person hopeful – about the continued delight and ingenuity of illustrated books, but in the bigger, larger sense, too."
—The Black Apple (Emily Winfield Martin)
"This book takes a direct look at depression but can also be used for more transient moods of children. The author's writing is rich and beautiful…This is a book that not only has art as a solution and an escape, but also has art in the writing itself."
—Waking Brain Cells
"This book is full of surprises, all of which readers will adore."
—The Book Bandit
"This book has gotten every little detail just right."
—Firrkids Reviews