Julia, Child
Illustrated by Julie Morstad
A book of friendship, food and unhurried delights that has been specially cooked for all ages.
Julia and Simca are two young friends who agree that you can never use too much butter — and that it is best to be a child forever. Sharing a love of cooking and having no wish to turn into big, busy people who worry too much and dawdle too little, they decide to create a feast for growing and staying young. A playful, scrumptious celebration of the joy of eating, the importance of never completely growing up, and mastering the art of having a good time, "Julia, Child" is a fictional tale loosely inspired by the life and spirit of the very real Julia Child — a story that should be taken with a grain of salt and a generous pat of butter.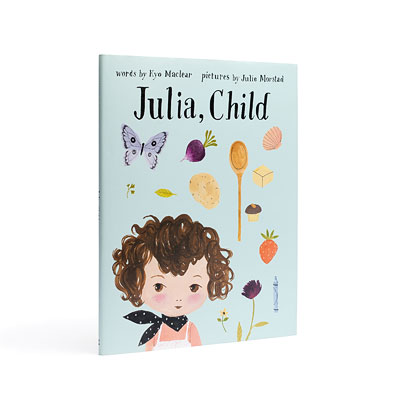 China: Beijing Cheerful Century Co. Ltd., 2016.
World Korean: Spring Garden, 2018.
I am so very excited about this collaboration with Julie Morstad (the illustrator of the book) and Scott Richardson (the designer.) They are both incredibly talented people and the book they've created is virtually edible. May a thousand chocolate éclairs rain down on their wonderful heads.
So what is this book? Julia, Child is the tale of two little girls (Julia and Simca) who are best friends, who love to cook and who decide that they really don't want to grow up. As far as they're concerned the adult world is a boring place full of constant rushing and endless worrying. (Why would they think that? Don't ask me.)
One of my very favorite drawings in the book shows a parent whisking a child along a busy street. The story is a bit surreal and Julie Morstad does a perfect job of capturing its whimsy and oddness…and its joy! Yes, the good news is that it all ends well.
Another thing you should know about this book is that it is only loosely based on its subject. There are other wonderful kids books out there about Julia Child that are full of pertinent facts and useful knowledge. This is not that book. What I've tried to do here is forget the facts and capture something about Julia Child's spirit. And by spirit, I mean her gusto, joyful abundance and joie de vivre. Julia's message—that to be a happy eater is to be a happy human—seems both a timely and timeless one to me.
Finally, let me share one last thought. When I was much younger, I worked at a French patisserie in Toronto. I worked there from ages 15–18 and it was by far and remains the most enjoyable work experience I've ever had. It was there, under the tutelage of a very Parisian woman named Nadine, that I learned the difference between a macaron and a Madeleine. And it was there that I learned that something austere is always best accompanied by something frivolous. And, lastly, it was there that I learned that even the most modest and miniature thing (a pain au chocolat, a hazelnut dacquoise, a simple picture book) can contain layers and depth.
Thank you for visiting. I hope you like Julia, Child and find a way to share it with others.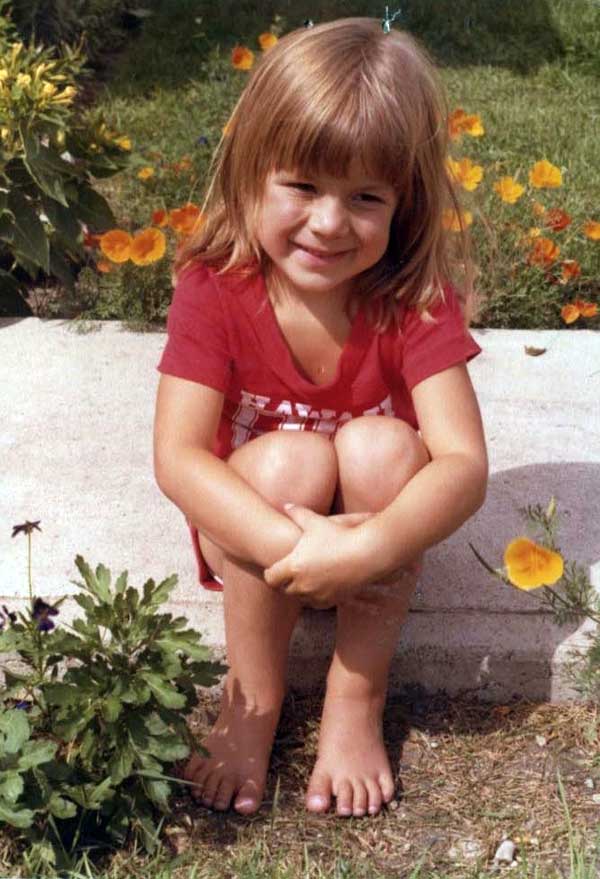 Julie Morstad draws pictures and makes books too. Some of the stories she has illustrated include When You Were Small and Singing Away the Dark. The first book she wrote and illustrated for children, How To, was a finalist for the Governor General's Award for Illustration, Canada's highest literary honor. She has also created art for CD covers, fabric, wallpaper and animated videos. Julie has even been known to bake bread in her Vancouver home and can make beurre blanc, but—as her husband and three children might tell you—often burns cookies.
Download the Julia, Child recipe card (PDF, 946k)
Download Recipe Card
100 Best Canadian kids' books of all time, Today's Parent
Best of 2014, Quill and Quire
Amazon.ca Editors' Best Books for Children and Teens (July 2014)
Governor General's Literary Award, Children's Literature Illustration (2014: Finalist)
The Small Type Award For Children's Book We Really Like (2014)
One of 20 New Classics, Huffington Post (2015)
CBC Bookies Awards (2015: Nominee)
Gourmand World Cookbook Award, Best Illustration (2015)
"This ebullient children's book recasts Julia Child's friendship with Simone Beck, a.k.a. Simca, as the tale of two girls (Julia on roller skates) who think that grown-ups do not "know how to have a marvellous time" and make it their mission to cure them with cheese soufflé and peach compote."
—New York Times (2014 Holiday Gift Guide)
"[Y]ou might want to get your own copy of Julia, Child, a children's book about some kids who really like eating butter. It is everything."
—Slate (2014 Holiday Gift Guide)
"Maclear's lyrical text imbues the rich sophistication many would ascribe to French culture. Words like marvelous, savory, and morsel, and baking terms like pinch, dash, and compote make it a delicious read-aloud. Kids will love Morstad's ink drawings, coloured only in the wonder-filled places with gouache paint, and the visual feast of kitchen implements and ingredients on each page."
— National Reading Campaign
"Julia, Child is a sure bet for any kid, and serves as a poignant reminder to adults to be a little more lighthearted every once in a while. It also serves as a reminder to all of us that Julia Child rocked hard, and we should all go watch her TV series (or at the very least watch her make a chicken)."
—Drawn and Quarterly
"[A] lighthearted, if slightly obscure allegory about inspiration and its gifts. Intriguing for an adult familiar with the real Julia and perhaps for the perceptive child who will understand that it's not about how old you are, or about what you cook, but about what you bring to the table."
— Kirkus Reviews
"Elegant, airy illustrations enhance a charming picture book about two best friends, Julia and Simca, somewhat lightly patterned on Julia Child and her co-author Simone Beck. The two girls concoct whimsical recipes to sweeten, calm and slow down the harried adults in their lives, and end up co-authoring a cookbook called Mastering The Art of Childhood."
—CBC Children's Book Panel, Summer Picks (Michele Landsberg)
"This book is phenomenal."
—Novel Nutritious
"Julie Morstad can do no wrong, and mixed with Maclear's musings on who these women might have been as girls, Julia, Child cooks up some real magic."
—Huffington Post
"As in her 2012 picture book, Virginia Wolf, Maclear works in a genre that I believe she has invented: the fictional childhood anecdote of a famous person. Here she takes elements from the life of chef Julia (no-comma) Child and transposes them to the childhood of a little girl, also named Julia… What will this mean to the reader who is more likely to tackle Kraft Dinner than a cheese soufflé? Plenty. The picture of Simca joyfully tossing a generous lump of butter into a pot simmering with rainbow smells could inspire even the most unambitious of cooks. The sight of adults running amok is always a pleasure, whether it's Lear's Old Man on the Border who lives in the utmost disorder or an out-of-control dinner guest who wields her baguette as a cudgel. And what child has not come to the conclusion, along with Julia, that 'too many grown-ups don't have the proper ingredients'? Here's hoping Maclear keeps her ears open for other biographical material that might be transformed by a well-placed comma."
—Quill and Quire
"Julia, Child is sure to inspire a new generation of chefs."
—Canadian Children's Book News
"An excellent new picture book by Kyo Maclear and Julie Morstad…Maclear has turned into one of the country's best children's authors but it's Morstad's stellar illustrations that are the main course."
—Mark Medley, The National Post
"Rather than a true biographical account of the childhood of the beloved TV personality and author of Mastering the Art of French Cooking, this picture book aims to capture Julia Child's energy and spirit through the story of two young friends who share a love of cooking."
—Cooking the Books, Publishers Weekly
"A scrumptious, adorable, enchanting story about following one's passion and the importance of remaining young at heart and in spirit, Kyo Maclear's Julia, Child is a book that will touch and inspire readers of all ages."
—Pop Goes the Reader
"Julia and Simca are wise beyond their years and self-starters, and their genuine creativity, problem-solving, and independence make them inspiring picture book role models… Highly Recommended."
—CM Magazine
"A pair of young girls stir together some secret ingredients, teaching the grown-ups in their lives just how important it is to stop worrying (and to use butter every chance they get!)."
—Today's Parent
"This is a cleverly-devised and structured book with an utterly delightful ending, and meaningful, delicious prose."
—Kids' Book Review
"Maclear, a Toronto writer, has produced a wonderful book for children who love to explore, learn and are curious about the world they live in."
—Bullet News Niagara
"The collaboration of Kyo Maclear with Julie Morstad to create Julia, Child is as inspired and scrumptious as Julia and Simca's recipe for reviving youth. Bon appétit!"
—CanLit for LittleCanadians
"What do you make when you add a love of cooking to a bowl full of friendship and bake with the talent of two of Canada's most loved children's book artisans? Julia, Child."
—Perogies and Gyoza
"Savor it, I do. I am a big fan of Kyo Maclear's work and am delighted to share this new story with you. It is a celebration of good food, friendship, being young, enjoying life to its fullest, and loving your days spent doing what you happily do. I think (from the little I know about the real Julia Child) that she would approve its telling wholeheartedly. Bon appetit!"
—Sal's Fiction Addiction
"The illustrations compliment perfectly the delicate whimsy of the story and the spirit of its inspiration…There's something delightfully English-but-also-French about the scenes Julia Morstad creates; they're sophisticated yet rustic, joyful yet refined. I adore absolutely everything about them!"
—Cozy Little Book Journal
"When I heard tell of a collaboration between Kyo Maclear and Julie Morstad, I almost had a heart attack. I love Kyo Maclear's picture books, which are strange, absorbing, curious and delightful, and then there's Julie Morstad, whose illustrations are so beloved I buy her prints and hang them on my wall. Julia, Child did not disappoint… The book is delicious and will make you hungry."
—Pickle Me This