Mr. Flux
Illustrated by Matte Stephens
A play­ful new col­lab­o­ra­tion between Kyo Maclear and cel­e­brated illus­tra­tor Matte Stephens.
Martin and his neighbors eschew change until eccentric Mr. Flux moves in and shows them that change can be big or little or even fit inside a box, and needn't be at all scary. A tongue-in-cheek tale loosely inspired by the 1960s art movement known as Fluxus.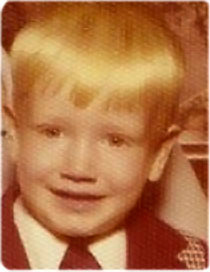 Matte Stephens is a Mid-Century enthusiast and a lover of modern design. He especially loves Charles and Ray Eames, Alexander Girard, George Nelson/Irving Harper and fine artists of the same era such as Ben Shahn and Paul Klee. He also loves his cat Simon, wife Vivienne and painting with gouache.
He lives in Peterborough, New Hampshire.Mr. Flux is his first children's picture book.
You can visit Matte at: www.matteart.net
I love collaboration. Collaboration is a window flung open to the skies. It's a bulwark against stasis, a kind surrender to the unexpected. No matter how much I may enjoy working alone (toiling away in my dingy garret), collaboration reminds me to keep the windows open and let the light and air through. No one thrives in solitary confinement. My creative introverted brain is always replenished by outside visitors.
As a picture book writer, I have come to await that moment when I must relinquish my story. I have come to await it not as someone anticipating the end of something but as someone rushing towards the beginning.
Here is something I have discovered. A good collaborator will decorate your ideas and prettify your pages. A great collaborator will take your unfinished notions and put them through a process of enhancement and enchantment so astonishing that, by the end, they'll have whisked you off to an even-better invented world.
I count my lucky stars that I have been blessed with great collaborators. Both Isabelle Arsenault and Matte Stephens make art that balances sophistication with playfulness, and cleverness with heart. Matte's particular approach is to take familiar objects and people, and re-arrange them in surreal and delightful ways that are not obvious at all. Isabelle, widely celebrated for her beautiful depth of detail, has a terrific knack for using white space, a lot of white space, active white space. She has taught me that the best illustrations give room for, rather than confine, the imagination of the reader.
Isabelle and I have done two books together. In both instances, I have watched her move from initial sketches and mood boards to finished art. I have seen her go and live inside a story, exploring the emotional intricacies of a scene with a focus that might make some wonder if she was applying the Stanislavsky Method to illustration. Her intuition astounds me. She often seems more attentive to the inner workings of my stories than I am.
Here's an example. There is a revelatory moment at the end of Virginia Wolf where Virginia is transformed from a wolf back into a girl. Isabelle used a clever visual trick involving silhouetted wolf ears and a large bow. Let me just say that I did not write or foresee this transition at all. Isabelle found it inside the story and, happily for everyone, it has become the crowning touch of the whole book.
This is the kind of out-of-the-blue magic that happens when you collaborate: you hand your collaborator a cube and they give you a dodecahedron in return. When you loosen your hold on a work, a communal form of talent takes over. There is room for anything to happen.
Reprinted from Uppercase Magazine, issue 14, Summer 2012.
Rainforest of Reading Award (2014: Nominee)
Prix Jeunesse des Libraires du Québec (2014: Winner)
Children's Books of the Year, Outstanding Merit, Bank Street Children's Book Committee (2014)
Favourite New Picture Books, Today's Parent (April 2013)
20 of the Most Beautiful Children's Books in the World, Apartment Therapy
"[A] friendly introduction to a lighthearted aesthetic and an antidote to the belief that standards (in art or anything else) are fixed or immutable."
— Kirkus Reviews
"Stephens's elegant retro spreads in milky hues create an atmosphere of urbanity throughout… even the houses that are supposed to be monotonous are charming…[A] useful, low-key introduction to the liberating impulses of the '60s."
— Publishers Weekly
"A wonderfully offbeat storybook that teaches kids about Fluxus artists (who celebrated found objects, sounds and everyday experiences) and that change can be a very good thing."
—Canadian Family
"Conformity vs. self-expression, solving problems by harnessing creativity vs. staying with what you know works – these are huge themes to put into a picture book. Yet somehow they fit, and Stephens's illustrations manifest the book's ultimate message: embracing the unusual can make the world a better place."
—The Globe and Mail
"Maclear's narrative—the language concise, engaging and revealing depth of character—and Stephens' illustrations—beautifully rendered in gouache and expressing much playfulness and humour—both capture the essence of what Fluxus artists were trying to do, and convey the movement's ideas in ways that are accessible to younger readers and listeners."
—Canadian Children's Booknews
"The book uses Fluxus, a media-blending artistic movement of the 1960s, as an inspiration and tonal springboard. This will sail over most of the young audience, of course, but anchoring the story in an element of art history gives it an added philosophical dimension."
—Booklist
"Mr. Flux and Martin embody characteristics that, as teachers, we try to model for our students as we attempt to instill the grit, courage and creative thinking they will need for the world of tomorrow."
—Professionally Speaking
"Change is one thing, but amusement is an important add-on, and Maclear's finale shows that something to cause a little laughter is always a valuable turnabout. Maclear's cautionary tale is wonderfully realized through Matte Stephen's retro art, reminiscent of Miroslav Sasek, renowned for his "This Is" series of children's travel books and showing that your own hometown can be just as exotic as London or Paris if you want it to be."
—North Adams Transcript
"[G]reat writing, original characters, quirky illustrations, and multiple layers great for drawing in readers of all ages… a philosophy lesson and a number of art lessons inside a fantastic picture book."
—Perogies and Gyoza
"A new picture book by Kyo Maclear is a literary event. Her books (Spork, Virginia Wolf) are always extraordinary, and her latest, Mr. Flux, is no exception."
—Pickle Me This
"This delightful romp into the short-lived 60s art moment known as Fluxus will be a staple for preschool and kindergarten teachers developing themes on everything from spontaneity and change to modern art."
—Michelle's Bookshelf
"Mr. Flux feels like something of great reflection and appreciation for the art movement of the 1960s, one that I wouldn't expect to be explored through picture books."
—Read Aloud Literacy
"A charming book that is thought-provoking and fun, Mr. Flux is awesome."
—Reading Eagle
"[A] delightful picture book that helps children see that change can be fun, even if they anticipate it to be traumatic."
—CanLit for Little Canadians