Yak and Dove
Illustrated by Esmé Shapiro
Sometimes the unlikeliest friends form the greatest friendships. A funny, charming picture book from a dynamic duo.
Friends Yak and Dove are complete opposites. Yak is large and Dove is small. Yak has fur and Dove has feathers. Yak is polite. Dove is ill-mannered. Yak likes quiet. Dove likes noise. One day as Yak and Dove list their differences they come to the conclusion that maybe they aren't meant to be friends. In the hope of finding a new best friend, Yak holds auditions. But when a small feathered contestant sings Yak's favorite song, the two begin to think that maybe they are alike after all…
Yak and Dove whimsically captures the highs and lows of friendship through the three interconnected tales of two very different friends.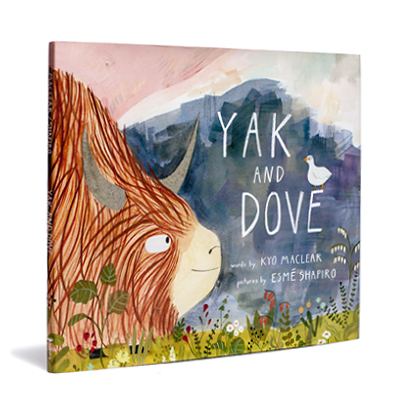 Canada/US: Tundra Random House, 2017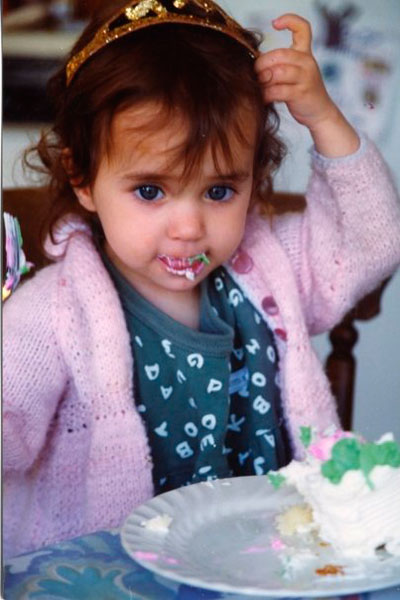 Esmé Shapiro was born and raised amongst the succulents and coyotes of Laurel Canyon, California. She currently resides in a plant filled apartment in Brooklyn, New York. A graduate of the Rhode Island School of Design, Esmé has exhibited at the Society of Illustrators and her work has been featured in Taproot, Quill and Quire, and Plansponsor magazines. She loves illustrating stories for children. Her first book, Ooko, was nominated for a Governor General's Literary Award and was # 1 on the National Post Bestseller list.
Yak and Dove Activity Booklet
Yak and Dove are unlikely friends. Dove is loud and Yak is quiet. Dove is small and Yak is big. What animals do you know that are smaller than Dove and bigger than Yak? Can you draw them? After Yak and Dove get into a disagreement, Yak tries to find a new best friend by throwing a talent contest. What is your (secret or not so secret) talent?
Download Activity Book
2017 Society of Illustrators Original Art Show
"Odd-couple friendships are nothing new in children's literature, but seldom is one portrayed with the grace and sly humor Maclear and Shapiro bring to this story…Maclear (The Liszts) divides the story into three chapters, all told in spare but emotionally rich dialogue."
—Publishers Weekly, starred review
"Author Kyo Maclear and illustrator Esmé Shapiro are an unassuming comedic dream team…The two make a dynamite, inventive pair and they infuse the tried-and-true odd-couple premise of Yak and Dove with bursts of irresistibly sweet weirdness…The story is a fresh friendship fable full of genuine kook and authentic feeling."
—Quill and Quire, starred review
"A much-needed favor to humanity in reminding us of what it takes to find, keep and take good care of true friends. . . . I smiled as I read the opening words of Yak and Dove… Every page of Esmé Shapiro's art is suitable for framing."
—Peter Reynolds, New York Times
"The humor and whimsical nature of the entries are enhanced by the watercolor, gouache, and colored pencil illustrations. In the tradition of "Frog and Toad," Yak and Dove will find a spot on the shelf amongst animal friendship stories."
—School Library Journal
"Sweet and just a little bit silly, and accompanied by Shapiro's enchanting watercolour illustrations, Maclear's latest captures the frustrating absurdities and lovely payoffs that come with the most intimate of friendships."
—The Globe and Mail
"In the spirit of Frog and Toad and George and Martha, here are three short stories about two great friends—told completely in dialogue, making this a joyously tricky read-aloud, as well as funny and wise. Shapiro's art creates a lavish, quasi-Tibetan fantasyland, a charming world of its own."
—Toronto Star
"Yak and Dove is a story of love, a story of relationships, curious and conventional. Maclear injects a lot of humour into the text … Parents and teachers will be able to talk to children about how friendship can transcend size, personality types, interests, gender, colour, ethnicity and any other difference imaginable. They can emphasize how enriching it is to find friends who are alike and friends who are different. [Highly recommended.]"
—Canadian Review of Materials
"Two unlikeliest of friends come together in this whimsical and delightful story about learning the ups and downs of friendship."
—Seattle's International Examiner
"Hold onto your hats, friends. Kyo Maclear and Esmé Shapiro are collaborating on a picture book and it. Is. Fantastic. If you're a fan of Frog and Toad, then this is definitely the book for you!"
—Let's Talk Picture Books
"Maclear's text is perfect for reading aloud and manages to avoid cloying cutesy-ness while retaining the humour inherent in its oddball plot. The author has done a masterful job of creating distinctive, believable voices for the main characters, who go from celebrating their closeness, to driving each other apart, to discovering that they really do value their friendship. Children of all ages will recognize the love between Yak and Dove, and appreciate the fact that true friends can overcome the occasional falling out."
—Ottawa Citizen
"The text is entirely delivered in a question-and-answer repartee (individual types for each character) that both moves the story along and maintains the characters' gender ambiguity."
—Kirkus
"Yak and Dove is a delightful picture book for preschoolers and the kindergarten/primary classes/readers. It is funny, thought provoking and a clever way to get the message that it is okay to be different! Sincere text with outstanding illustrations in a story you won't soon forget."
—resource links
"If you're all about the artwork, then this gorgeous picture book will easily win your heart. I sort of liken it to a modern, more richly coloured Maurice Sendak vibe, with crazy critters and lovely nature scenes punctuated by whimsical vignettes. In one, Yak is looking for a new best friend – his buddy Marmot decides to hold a competition to essentially recruit someone. A little Dove catches his eye, and they compare notes on why they could make great friends. For the record, that is just one story in this little collection – you can easily read them all at once or split them up for multiple story sessions of fun adventures between this unlikely twosome."
—Canada Gift Guide
"When talking to your kids about new (or old) friendships, Yak and Dove by Kyo Maclear and Esme Shapiro is an excellent resource. This loving, fun and reflective tale truly gets to the point that despite differences, friendships can blossom. A great read aloud as you continue to build class culture!"
—Heather Lipskie, educator
"Whimsical watercolours accompany this trio of tales about two creatures who are so different they can only be best friends. The sheer attention paid to world-building and background characters makes one hope this book is just the first in a new series."
—The Globe 100 list
"In the spirit of Frog and Toad and George and Martha, here are three short stories about two great friends—told completely in dialogue, making this a joyously tricky read-aloud, as well as funny and wise. Shapiro's art creates a lavish, quasi-Tibetan fantasyland, a charming world of its own."
—Toronto Star
"A charming take on the odd-couple friendship written in a quirky repartee between introverted Yak and noisy, ill-mannered Dove presented in three interconnected tales and illustrated with playful watercolor, gouache and pencil illustrations. Children of all ages will be able to connect with the frolicsome humor and occasional difficulties of friendship presented in this picture book."
—Association of Children's Librarians of Northern California
"Two unlikeliest of friends come together in this whimsical and delightful story about learning the ups and downs of friendship."
—Seattle's International Examiner
"Hold onto your hats, friends. Kyo Maclear and Esmé Shapiro are collaborating on a picture book and it. Is. Fantastic. If you're a fan of Frog and Toad, then this is definitely the book for you!"
—Let's Talk Picture Books
"Maclear's text is perfect for reading aloud and manages to avoid cloying cutesy-ness while retaining the humour inherent in its oddball plot. The author has done a masterful job of creating distinctive, believable voices for the main characters, who go from celebrating their closeness, to driving each other apart, to discovering that they really do value their friendship. Children of all ages will recognize the love between Yak and Dove, and appreciate the fact that true friends can overcome the occasional falling out."
—Ottawa Citizen
"The text is entirely delivered in a question-and-answer repartee (individual types for each character) that both moves the story along and maintains the characters' gender ambiguity."
—Kirkus
"Yak and Dove is a delightful picture book for preschoolers and the kindergarten/primary classes/readers. It is funny, thought provoking and a clever way to get the message that it is okay to be different! Sincere text with outstanding illustrations in a story you won't soon forget."
—resource links
"If you're all about the artwork, then this gorgeous picture book will easily win your heart. I sort of liken it to a modern, more richly coloured Maurice Sendak vibe, with crazy critters and lovely nature scenes punctuated by whimsical vignettes. In one, Yak is looking for a new best friend – his buddy Marmot decides to hold a competition to essentially recruit someone. A little Dove catches his eye, and they compare notes on why they could make great friends. For the record, that is just one story in this little collection – you can easily read them all at once or split them up for multiple story sessions of fun adventures between this unlikely twosome."
—Canada Gift Guide
"When talking to your kids about new (or old) friendships, Yak and Dove by Kyo Maclear and Esme Shapiro is an excellent resource. This loving, fun and reflective tale truly gets to the point that despite differences, friendships can blossom. A great read aloud as you continue to build class culture!"
—Heather Lipskie, educator
"Whimsical watercolours accompany this trio of tales about two creatures who are so different they can only be best friends. The sheer attention paid to world-building and background characters makes one hope this book is just the first in a new series."
—The Globe 100 list
"In the spirit of Frog and Toad and George and Martha, here are three short stories about two great friends—told completely in dialogue, making this a joyously tricky read-aloud, as well as funny and wise. Shapiro's art creates a lavish, quasi-Tibetan fantasyland, a charming world of its own."
—Toronto Star
"A charming take on the odd-couple friendship written in a quirky repartee between introverted Yak and noisy, ill-mannered Dove presented in three interconnected tales and illustrated with playful watercolor, gouache and pencil illustrations. Children of all ages will be able to connect with the frolicsome humor and occasional difficulties of friendship presented in this picture book."
—Association of Children's Librarians of Northern California