BLOOM:
A Story of Fashion Designer Elsa Schiaparelli
Illustrated by Julie Morstad
A dazzling picture book biography of one of the world's most influential designers, Elsa Schiaparelli, by the team who created Julia, Child. Elsa dared to be different, and her story will not only dazzle, it will inspire the artist and fashionista in everyone who reads it.
By the 1930s Elsa Schiaparelli had captivated the fashion world in Paris, but before that, she was a little girl in Rome who didn't feel pretty at all. Bloom: A Story of Fashion Designer Elsa Schiaparelli is the enchanting story for young readers of how a young girl used her imagination and emerged from plain to extraordinary.
As a young girl in Rome, Elsa Schiaparelli (1890–1973) felt "brutta" (ugly) and searched all around her for beauty. Seeing the colors of Rome's flower market one day, young Elsa tried to plant seeds in her ears and nose, hoping to blossom like a flower. All she got was sick, but from that moment, she discovered her own wild imagination.
In the 1920 and '30s, influenced by her friends in the surrealist art movement, Schiaparelli created a vast collection of unique fashion designs—hats shaped like shoes, a dress adorned with lobsters, gloves with fingernails, a dress with drawers and so many more. She mixed her own bold colors and invented her own signature shades, including shocking pink.
Bloom: A Story of Fashion Designer Elsa Schiaparelli follows Schiaparelli's life from birth and childhood to height of success. Julie Morstad's elegant imagery saturates the pages with Schiaparelli-inspired shapes and colors.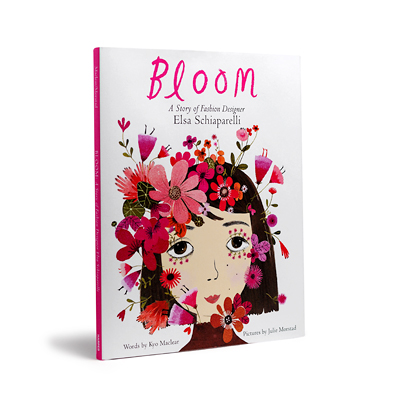 Canada: Tundra Books, 2018
U.S.: HarperCollins, 2018
Korea:  Spring Garden, 2018
China: Beijing Tianlue Books Co, 2018
Japan: Froebel-kan, 2019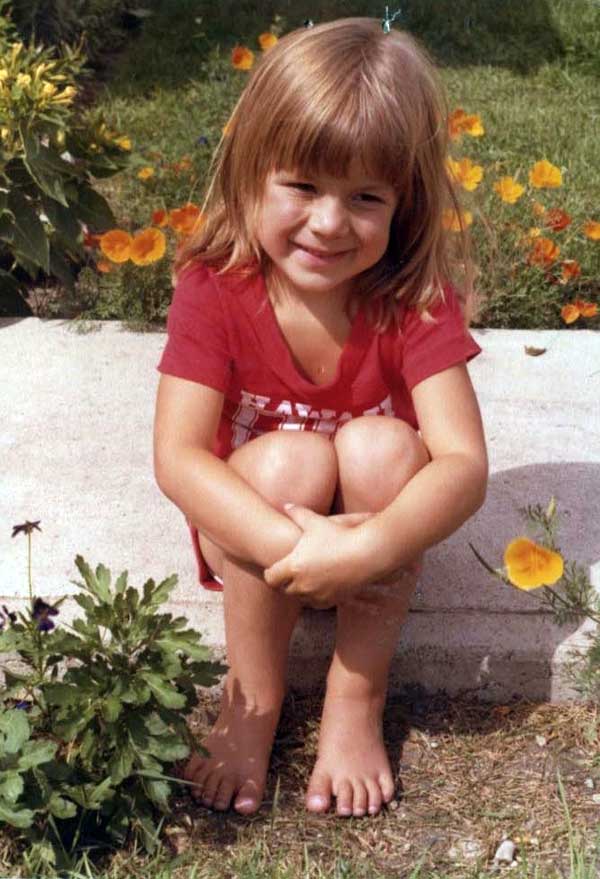 Julie Morstad draws pictures and makes books too. Some of the stories she has illustrated include When You Were Small and Singing Away the Dark. The first book she wrote and illustrated for children, How To, was a finalist for the Governor General's Award for Illustration, Canada's highest literary honor. She has also created art for CD covers, fabric, wallpaper and animated videos.
A Junior Library Guild Selection
2018 Elizabeth Mrazik-Cleaver Canadian Picture Book Award
2019 Amelia Bloomer Book List
2019 Notable Social Studies Trade Books
Spring 2018 Kids' Indie Next List
2018 Silver Birch Express Award Finalist
2018 Quill and Quire Book of the Year
2018 Best Books, The Globe 100
2018 Best Books, CBC
2018 Best Books, A Mighty Girl
2018 Best Books for Kids & Teens, Starred Selection
2018 Chicago Public Library Best of the Best Books
2018 Society of Illustrators Original Art Show
"An exuberant fictionalized rendering of designer Elsa Schiaparelli's early life….Not only a gorgeous portrayal of this 20th-century creative genius, but an empowering tale encouraging readers to 'dare to be different.'"
—Kirkus, starred review
"Morstad's vivid mixed-media have an imaginativeness to match Schiaparelli's surrealistic designs (playing with a beloved uncle as a child, she soars amid the stars and planets of the cosmos) and feature splashes of Schiaparelli's trademark shade of pink: 'Bright, impossible, impudent, becoming, life-giving, like all the light and the birds and the fish in the world put together.' It's a dramatic tribute worthy of its audacious subject."
—Publishers Weekly, starred review
"Bloom takes a contemplative step back from the purely biographical and becomes a gentle ode to self-expression."
—Quill and Quire, starred review
"This isn't just a story about a fashion designer. Author Kyo Maclear reveals how Elsa Schiaparelli got the inner strength to thrive… It's a lyrical story that will inspire any girl to look beyond the gray and see, well, shocking pink."
—Houston Chronicle
"Together Maclear and Morstad have created a picture book that, like Elsa's art, is 'daring, different, and whole' and that reminds us that 'together, we BLOOM and BLOOM.'"
—Shelf Awareness
"This bold and beautiful book, Kyo Maclear tells the story of fashion designer Elsa Schiaperelli. Pink is employed generously by illustrator Julie Morstad, who matches Maclear's poetic retelling of the fashion icon's life."
—Book Riot
"Pink flower petals, frocks, and a feverish imagination are at the heart of Kyo Maclear and Julie Morstad's kidlit biography of the radical Italian fashion designer known as Schiap. Portraying artistic life in early 20th-century Europe, Bloom celebrates resilience and self expression with the elegant prose and delicate illustrations readers expect from a Maclear and Morstad collaboration."
—Quill and Quire, Best Books of 2018
"This lyrical biography of Elsa Schiaparelli offers picture-book readers an enlightening introduction to the wildly inventive and influential fashion designer…Little ones who 'dare to be different' will be inspired."
—Booklist
"With Maclear's beautifully melodic, empathetic storytelling style leading the way, Morstad's incredible, meaningful illustrations follow to highlight just some of Elsa's significant moments… Overall, Bloom: A Story of Fashion Designer Elsa Schiaparelli is a gorgeous work that balances biography, lyricism, and art in picture book format."
—Fab Book Reviews
"Maclear and Morstad have the rare gift of presenting a biography that truly feels alive."
—Sarah Sorensen, Bookbug (Indie Next List Spring 2018)
"What a beautiful tribute to Elsa Schiaparelli this is! Following their first book together, Julia, Child (2014), this talented team now consider the life of the highly influential and original fashion designer who took the world by storm with her imagination and love of color – especially 'shocking pink'."
—Sal's Fiction Addiction
"Inspiring and adorable—fierce young Elsa wanted to be as beautiful as the flowers she saw around her Italian neighborhood, so she planted wildflower seeds in her ears, nose, and mouth—this is a lush tale of daring to be different and a celebration of the spirited woman who went on to create the color we know as 'shocking pink.'"
—Nerdy Book Club
"It's no surprise that these two inspired artists took on Schiaparelli, nor that they have chosen to frame her life story as one about the thrill of creating and the necessity of self-assurance…The gorgeous design, intricate artwork, and fluent pairing of text and words makes this new book for children, as well as adults, as great a feast as Hemingway's Paris."
—Imaginary Elevators
"What better way to lift one's spirits, when the weather outside is dreary, than to think pink and share a wonderful picture book with the youngster(s) in our home…Bloom: A Story of Fashion Designer Elsa Schiaparelli, by Kyo Maclear and Julie Morstad, is aimed at young ages but will also appeal to an older demographic — especially those with an interest in fashion and illustration."
—The Montreal Gazette